Diabetic breakfast should never be omitted because it provides energy in the first part of the day and protects you from unhealthy temptations. Adherence to main meals and snacks during the day is very important in controlling diabetes.
Even if the time is short, there are several ways you can start your morning with a fast and healthy meal.
Build up on healthy food
The first step you have to take to always have healthy food for breakfast at hand is to stock up on the following:
fresh fruits (apples, cherries, bananas, oranges, clementines, grapefruit, blueberries, currants, pears, nectarines, peaches), frozen fruits (which you can use in smoothies or yogurts), sugar-free fruit compotes, and dried fruits (raisins, cranberries, figs, dates, prunes);
whole grains without sugar, bran, oatmeal, bread, and muffins from wholemeal flour;
raw nuts (almonds, pecans, walnuts, hazelnuts, cashews);
low-fat eggs and dairy products (skim milk, soy milk, almond milk, Greek yogurt, cottage cheese);
vegetables (salad, tomatoes, cucumbers, zucchini, bell peppers, eggplant, cabbage, endive, spinach, etc.).
Suggestions for a quick, healthy, diabetic breakfast
Make an omelette from an egg in which you add a teaspoon of milk, garlic powder, and a little pepper. Cook in the microwave or in a non-stick pan for one minute or until the eggs are ready. Add a teaspoon of salsa sauce and a little low-fat cheese over the omelette. Serve with a slice of wholemeal bread, greased with a little margarine or fresh fruit.
The same omelette can be served in a wholemeal flour tortilla, along with a few slices of bell pepper and tomatoes.
A bowl of semi-skimmed milk (soy and almond milk have fewer calories and low carbohydrate content) and unsweetened or bran whole grains, over which you add some berries.
A smoothie made from half a glass of yogurt, 2 teaspoons of low-fat milk, and some frozen fruit. Mix the ingredients in a blender and add, for extra flavor and protein, a teaspoon of unsalted peanut butter, a few flax seeds, and a cinnamon powder.
Perfect yogurt and fruit – you need plain yogurt, fresh-cut fruits, nuts, or whole-grain cereals. Put half the amount of fruit in a tall glass, add half of the yogurt and sprinkle nuts or cereals on top. Continue the operation putting in the same order the rest of the fruits, yogurt, and nuts/cereals.
A slice of wholemeal bread greased with 1-2 teaspoons of peanut butter or almonds, over which you can add slices of banana or apples.
Mix a quarter cup of oats with half a cup of water and leave it in the microwave for a minute or until the oats soften. Add a cinnamon powder, a little sweetener, and a few ripe nuts.
Mix 50 grams of cottage cheese with a few slices of fresh peach or compote and a few nuts. If you don't like peaches, you can opt for pineapple, raspberries, blueberries, or even tomatoes.
Smoothie recipe with fruit and almond milk
Below is a super quick smoothie recipe – it only takes 5 minutes to prepare – that you can eat for breakfast for a day full of energy. Almond milk is ideal in smoothies because it does not contain many carbohydrates and can be consumed by people suffering from lactose intolerance.
Ingredients for 2 servings:
250 ml of almond milk
200 gr of frozen fruits (strawberries or peaches)
100 gr yogurt 1% fat
Preparation: mix all the ingredients and blend them until they get the consistency of a finely thick puree.
Nutritional values ​​per serving (250 grams): 100 calories, 15 g carbohydrates, 5 g protein, 2.5 g fat, 0.7 g saturated fat, 2 g fiber, 0 mg cholesterol, 110 mg sodium (salt).
Muffin recipe with zucchini and dates
These muffins are perfect to take with you. You can prepare them in the evening and in the morning you can pack 2-3 muffins that you can serve as a snack between meals.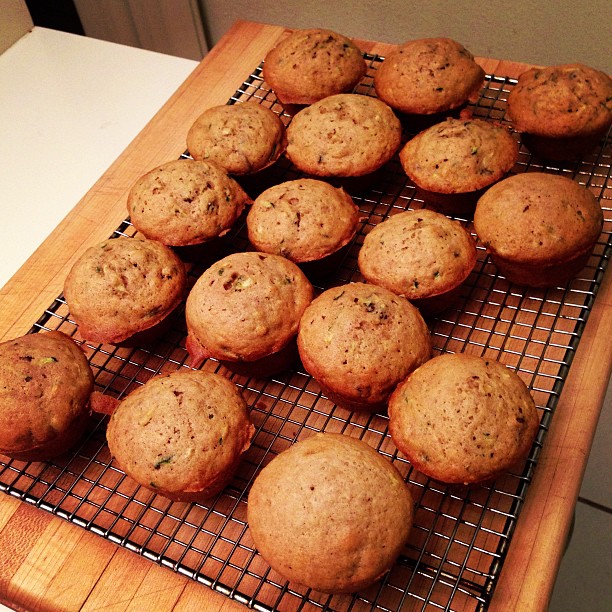 Preparation time: 15 minutes
Ingredients for 12 muffins:
12 paper forms for muffins
7 grams of sweetener
110 ml sugar-free apple sauce
55 ml of rapeseed oil
4 egg whites
a teaspoon of vanilla essence
120 g wholemeal flour
120 g of oats
2 teaspoons of baking powder
a teaspoon of baking soda
half a teaspoon of salt
a teaspoon of cinnamon
40 g of finely chopped seedless dates
350 g of chopped zucchini
Preparation: mix well with the mixer the apple sauce, the oil, the egg whites, the vanilla, and the sweetener. In a separate bowl, mix flour, oats, baking powder, baking soda, salt, cinnamon, and dates and create a space in the middle, in which you pour the liquid composition.
Mix well and add zucchini to the composition. Mix again and pour the composition into the 12 muffin tins in which you put the muffin paper. Leave the muffins in the preheated oven at 350 degrees for 30 minutes. To make sure they are cooked, insert a toothpick in the middle of the muffin. If the toothpick shows no traces of dough, then the muffins are ready.
Classic apple sauce recipe: 2 kg of apples are peeled, grated, and boiled with the juice of 2-3 lemons and a cup and a half of water. Boil for about 30 minutes, and the apples are extremely soft. In the end, the structure is given through a blender. It can be stored in the freezer.
Nutritional values for a muffin: 145 calories, 21 g carbohydrates, 4 g protein, 5 g fat, 0.5 g saturated fat, 6 g sugar, 3 g fiber, 0 mg cholesterol, 285 mg salt, 175 mg potassium.
Diabetic breakfast importance
A healthy breakfast means a good start to the day. Breakfast is a very important meal – it can either make or break your day, especially if you are diabetic, because your blood sugar is low after eating overnight.
Having a healthy diabetic breakfast means that you will maintain an ideal body weight, the main factor in managing diabetes. According to a 2014 study, breakfast that includes grains, whole fruits, berries and low-fat milk can help with weight loss.
It is believed that if you constantly avoid breakfast, you are more likely to develop type 2 diabetes. A 2015 study showed that breakfast is of the utmost importance for the prevention of type 2 diabetes.
If you have diabetes, this does not mean that you have to eat boring foods at every meal. You can have delicious food for breakfast that you will enjoy every time.
In fact, a high-fiber meal and low-sugar foods will maintain a healthy blood sugar level.