Type 2 diabetes which is also called non-insulin-dependent diabetes or diabetes onset in adulthood, is described by the fact that the pancreas continues to produce insulin, sometimes even more than naturally. But the body develops resistance to the effects of insulin, so in reality, there is an insulin deficiency.
Type 2 diabetes – Risk factors
Type 2 diabetes can occur in children and adolescents, but usually begins in people over the age of 30 and is becoming more common in older age groups. About 15% of people over the age of 70 have type 2 diabetes. Some racial and cultural groups have an increased risk of developing type two diabetes: afro-americans and hispanics living in the United States have a risk of 2-3 times higher than the general population. Type II diabetes also has family aggregation. The main risk factor for type 2 diabetes is obesity, and 80-90% of people with this disease are overweight.
Because obesity causes insulin resistance, affected people need very large amounts of insulin to maintain normal blood sugar levels. Certain diseases and medications can affect the way the body uses insulin and can lead to type II diabetes. Elevated levels of corticosteroids (present in Cushing's disease or treatment with synthetic corticosteroids) and pregnancy (gestational diabetes) are the most common cause of changes in the way the body responds to insulin.
Diabetes can also occur in people who produce excessive amounts of growth hormone (acromegaly) and in those with tumors that secrete certain hormones. Severe or recurrent pancreatitis, as well as other diseases that directly damage the pancreas, can lead to diabetes.
Other risk factors:
• Prediabetes
• Heart and coronary vessels problems
• High blood pressure, even if it is treated and controlled
• Gestational diabetes (diabetes while you were pregnant) • Polycystic ovary syndrome (PCOS)
• Low HDL ("good cholesterol")
• Increased triglycerides
• Depression
Type 2 Diabetes symptoms
People with type 2 diabetes can be asymptomatic for many years or even decades before being diagnosed. The symptoms can be subtle. Increased urine volume and thirst are mild at first, gradually worsening over the course of weeks or months. Finally, individuals experience extreme fatigue, blurred vision, and dehydration. Sometimes, in the early stages of diabetes, the blood sugar drops abnormally, a manifestation called hypoglycemia. Because people with type 2 diabetes produce a small amount of insulin, ketoacidosis does not normally occur. But your blood sugar can become extremely high (often over 1,000 mg / dL). Such high values ​​are recorded in stressful situations, such as infections or certain drug treatments.
When blood sugar rises too much, patients may experience severe dehydration, which can lead to mental confusion, drowsiness, and seizures, a condition called non-ketone hyperglycemic coma.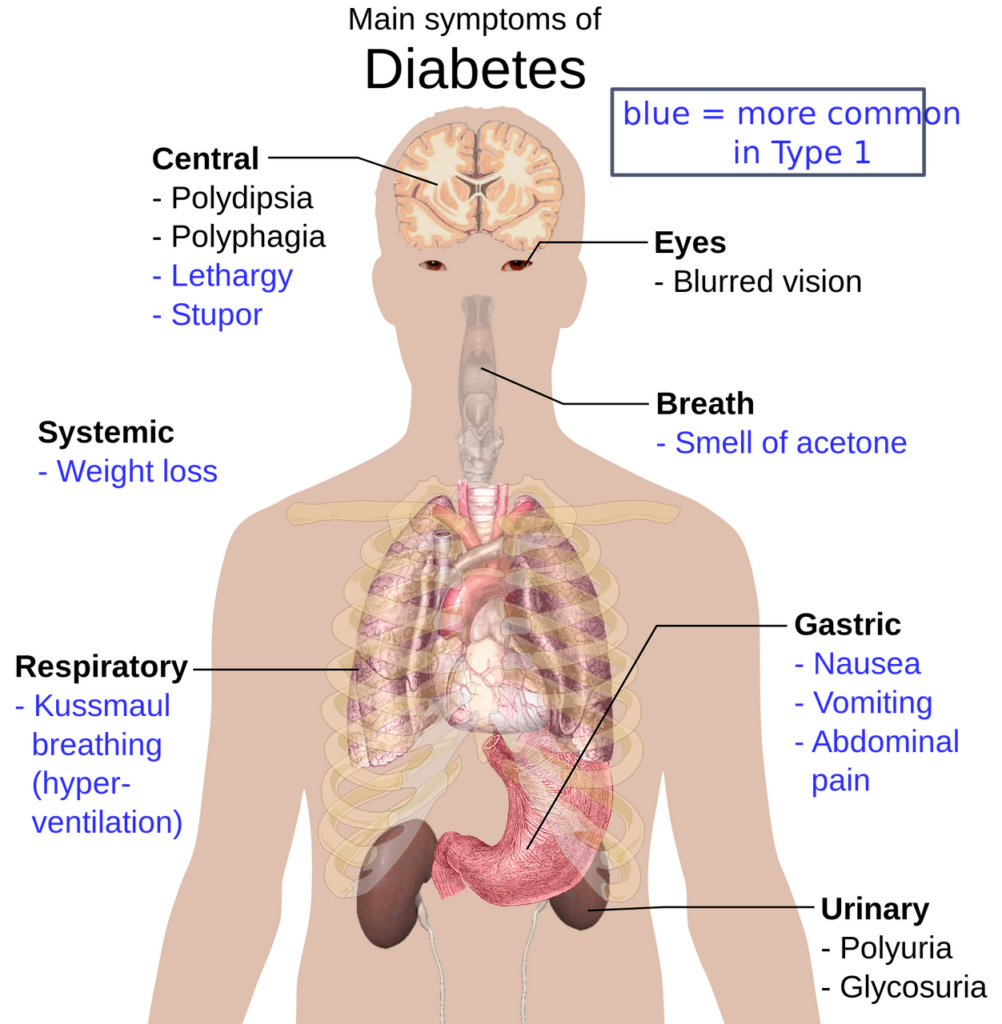 Type 2 diabetes diagnosis
The diagnosis of diabetes is established by detecting high blood glucose levels. Blood glucose is frequently checked during routine medical evaluations. Annual blood glucose testing is especially important in the elderly, as diabetes is much more common in these individuals. It is possible that a certain individual has diabetes, especially type 2 diabetes, and is unaware of it. Your doctor should also check your blood sugar for people who have an intense thirst, increased urination, intense hunger, frequent infections, or any other complications associated with diabetes.
To measure blood sugar, a blood sample is taken after the person has stopped eating for 12 hours. But it is also possible to collect blood after the individual has eaten. After a meal, your blood sugar levels are normal, but your blood sugar should not be too high. In the case of fasting, the blood glucose should never be higher than 126 mg/dl. Even after a meal, your blood sugar should not exceed 200 mg/dl. Doctors also measure the level of a blood protein called hemoglobin A1C (also called glycosylated hemoglobin). This analysis is useful for confirming the diagnosis in adults in whom blood glucose levels are only slightly increased.
Sometimes another test can be done, called the glucose tolerance test; for example, it can be used in pregnant women who have gestational diabetes, or in the elderly who have symptoms of diabetes but whose blood sugar is normal after fasting. However, this test is not routinely used to identify diabetes. The procedure consists of fasting, followed by collecting a blood sample to determine blood sugar; thereafter, the evaluated individual consumes a special solution containing a standard amount of glucose. Subsequently, blood is collected again several times in the next 2-3 hours, each time is determined.
Avoid getting type 2 diabetes
What can you do to prevent type 2 diabetes? Some risk factors are related to your daily habits and lifestyle. You can make the most important changes to improve your health.
What are the bad habits that increase your risk of getting sick?
• Lack of physical activity. More activity will work the muscles, which will put insulin to work and consume blood glucose. Also, if you lose weight, you will substantially reduce the risks and postpone the complications. A weight loss of only 10% halves the "chances" of developing type 2 diabetes. Thirty minutes a day of brisk walking reduces the risk by almost a third.
• Smoking. It affects the arteries and blood circulation, making it difficult to transfer glucose from the blood to the body's cells. Stop smoking will soon show its effects on you, coming with the advantages of better breathing and greater flexibility. Stop smoking with a healthy eating and exercise program so you don't gain weight. Talk to a nutritionist who can help you with this.
• Stress, eating, sleeping too little or too much. Choose a balanced emotional life and a healthy diet (avoid processed foods, white flour, sweetened beverages, trans and saturated fats). Limit red meat and processed animal foods. Also, sleep between seven and nine hours a night.